[text_block style="style_1.png" align="left"]
Trigger Foods and Events
In your journal today:
1. MAKE A LIST of foods that make you feel guilty or ashamed every time you eat them.
2. Make a list of foods you do not allow yourself to eat – ever.
3. Make a list of foods that you cannot stop eating at one portion – ever.
4. Make a list of foods that you cannot refuse to eat if they are kept in the house.
5.Make a list of foods that you cannot refrain from ordering if they are on the menu.
You get the idea. What are the foods that spell trouble for you? For me, it's Nutella. Whoever invented this stuff is straight-up from the bowels of hell. I avoided Nutella for years because it scared me. One day at the grocery store, I noticed Nutella was on sale – half price. I have no idea why that day was different, but I decided to introduce myself to Nutella. Exactly as I expected, I fell in love at first bite. If I buy Nutella, I eat it straight out of the jar on a spoon. I refrain from trying all the Nutella brownie recipes and the likes because the prospect of having that kind of food around frightens me. I am afraid I may eat myself into the next century.
What food can you not say no to? Nutella is my trigger food. I do not keep it in the house. I do not buy it more than perhaps once a year. If I do buy it, I limit myself to a spoonful a day. I eat it slowly, mindfully and I savor every bite.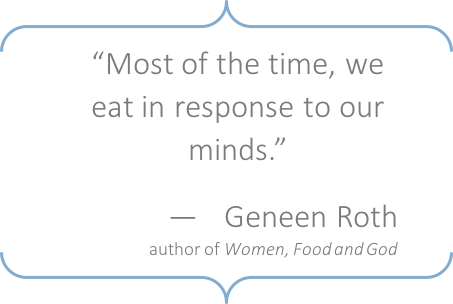 For now you need to abstain from your trigger foods. This doesn't mean you can never have them again, but until you have more skills I don't advise trying to eat trigger foods in moderation. It's too hard.
Beyond trigger foods – exploring trigger scenarios
Now look at situations and events that spell trouble for you. What are the times in your life where eating healthy is impossible? For me, it's college football tailgates. I have season tickets to my alma mater, UNC–Chapel Hill. My friends and I tailgate at least four hours prior to kickoff. We have tailgate themes like Sausagefest and Mexican Fiesta. It's all about food, drink, fun, and friends. For years, I ate my way through these days, rationalizing that it's only seven days a year. But I always felt gross by game time.
One season I made a conscious decision to start taking a healthy option. I took things like roasted brussells sprouts, hummus and veggies, roasted zucchini, and turkey burgers. I decided to limit the high-fat foods like potato salad, chocolate chip cookies, and spinach dip. I felt so much better. I started listening to my body about hunger and fullness cues. I realized that 75 percent of my eating at tailgates was in response to external cues. I was eating just because the food was there, it was free, and it looked tasty. I was eating because of desire. When I started asking myself if I was hungry, saying no came much more easily.
What are the situations that scare you? Family dinners, wedding receptions, Sunday NFL games? You can't avoid these events like you can avoid your trigger foods. You need coping mechanisms. Here are some tips:
Come up with a game plan. Anticipate your trigger foods and events and come up with a plan. Here is one plan I developed with a client who is triggered by Twizzlers. She was eating roughly 12-15 per day when we started working together. Most of these consumed while at work.
Step 1: Do not buy Twizzlers. Easier said than done. If she can keep them out of her home and her office then eating Twizzlers will not be an option. The battle then becomes getting out of the grocery store without buying Twizzlers. So we developed a plan for when she is in the grocery store. She decided that she can avoid the aisle that Twizzlers are on. Nothing healthy is on that aisle anyway. If she is tempted to go down that aisle she will pull out a small notecard she keeps in her purse. We call this her SOS card. This is what her SOS card read:
First, take a breath and relax! You know this is not about Twizzlers. This is about you not feeling worthy. And YOU ARE WORTHY. Eating this bag of Twizzlers will not get me closer to my goal of being in control of my food choices. In fact it will set me back. Do you really want to start all over AGAIN? I can do all things through Christ who strengthens me. Phil 4:13.
My client found this technique extremely helpful. When you pause and remember it's not about how wonderful the Twizzlers taste, it's easier to step away from them. If you focus on how you feel 20 minutes after eating them instead of the moment they hit your lips it is easier to say no.
Think of what could go on your SOS Card. Is it a bible verse, picture of someone, inspirational quote, question to yourself, etc?
Here's another example:
Eating _______ will not solve my problem. It will actually make it worse! How will I feel after I eat ____________? How will feel if I just say NO? ______________________
Do not rationalize this choice away.
Do not tell yourself you deserve it. You deserve to be healthy and fit.
This food does not have control over me.
(She attached a picture of her 6 yr old daughter because she wants to set a better example for her and also be around for her as she grows up.)
Of course you can use this technique anytime you are tempted to consume unhealthy foods or extra portions. Take a day and figure out a game plan for these times. Journal your game plan for times when you find yourself around trigger foods or at trigger events.
[/text_block]