[text_block style="style_1.png" align="left"]
Dealing With Temptation
THE TEMPTATION to fall into old habits, go off your meal plan, or rationalize your choices is guaranteed to come. Here are some helpful tips so you can be prepared.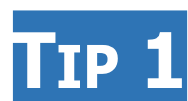 Plan. This is ultra important. You don't want to get in a situation for which you are unprepared. If you are flying out for a business trip, think about being in the airport for lunch. Where will you eat? Do you bring snacks with you or buy them there? How long is the flight? What will be served on the plane?
Do you have plans to attend a friend's birthday party? Anticipate tons of unhealthy food. Don't show up hungry. Don't show up planning to eat your dinner there when you have no idea what will be served.
Always be thinking about the situation and anticipate how you will deal with challenges.

In the heat of the moment, take a time-out. In line at McAlister's Deli, you waver between ordering the spinach salad or the orange cranberry club sandwich with potato salad. "I'll be good; I'll get the salad… But maybe I could get the sandwich – I mean, I did lose three pounds last week and weigh-ins aren't for another six days. Maybe I deserve it." And the struggle continues as you inch your way to the front of the line to order.
When we make decisions under duress, we make poor choices. If you find yourself struggling to decide what to order, remove yourself from the line. Go to the bathroom. Walk outside. You have to remove the pressure of making the decision. Take a deep breath. Tell yourself it's going to be OK. Think about your choices.
If I order the spinach salad, I will feel _______________________________________________________________.
Will you feel deprived if you order the salad?
If I order the orange cranberry club with potato salad, I will feel _______________________________.
Will you feel guilty if you order the sandwich?
Let's assume you are hungry. Will eating the healthy choice take away your hunger? Will eating the less healthy choice make your hunger go away? If the goal is to satisfy hunger and fuel your body which choice will do that best?
ACTIVITY: Create an SOS card to read during times of temptation. You can have a physical card or store this information in your phone. The situation is that you are being tempted to stray from your meal plan. What would be helpful for you to hear at this moment? Put that on the card. Here's an example:
I know ___________ will taste great but that satisfaction will be over as soon as I stop chewing. As soon as I am done I will feel guilty. I know it's just one meal but even one meal that is not on my plan will keep me from achieving my goals. It's not worth it. You'll survive if you don't have it.
Changing your choices has so much to do with the thought process.

[/text_block]